MARILYN MANSON
Creator and mentor of the band

since 1989 - Pseudonym Origin

Marilyn Monroe - Actress/sex symbol

Charles Manson - Accused of several deaths

- Real Name

Brian Hugh Warner

- Date and place of birth

January, 05 1969 - Fort Lauderdale, Fl

- Hair color

Dyed black, red, wigs

- Natural hair color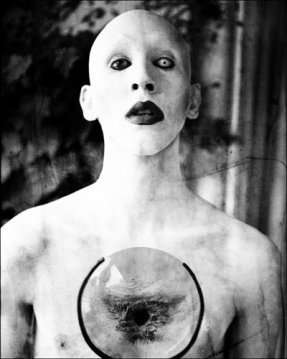 Brown
- Eye color
It depends on the lenses he's wearing
- Natural eye color
Hazel
- Current Address
Los Angeles
- Parents
His mother, Barb, is a nurse and his father, Hugh, apart being a Vietnam vet, runs a antique furniture store.
- Main Instrument
His voice
- Secondary Instrument
Guitar
- Musical Knowledge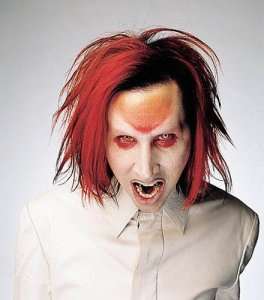 Guitar, Bass, Drums, Keyboards, Flute
- Previous Bands
Satan Of Fire, Mrs Scabtree (bouth fake christian-death metal)
- College Major
Photo journalism
- Religious Studies
Satanism, Christianity, Hebrew Kabblah
- Religious Practices
As all religions have valid elements, in the end he practices a little bit of each and none in particular.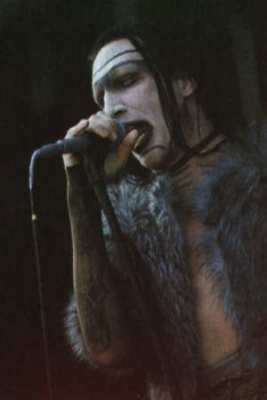 - Favorite Philosophers

Nietzsche, Darwin, Freud, Crowley, LaVey

- Favorite Cartoon

Scooby Doo

- Favorite Bands

Pixies, The Doors, Deee-lite, Gwar, Freaks w/Beaks

- Favorite Books

Ultimate Devil, Hop On Pop, The Family, The Wilderness

- Favorite Films

River's Edge, Wild At Heart, Pink Flamingos, Henry, Portrait Of A Serial Killer, The Grinch, Blue Velvet, Desperate Teenage Love Dolls.

- Favorite Toys

KISS dolls, Jesus action figure, Scooby-Doo, love bump strap-on dildo, Reba the mail lady, and the vibrating cock ring.

- Fears

Cigarettes, talk shows, himself

- Other

Birth Religion - Catholic; Pets - a female dog (Lydia); Astrological sign - Capricorn; Nickname - Jerry; Other pseudonyms - Reverend - Mr Manson.

- Interesting Facts

As a kid he studied in a Christian School and played "Jesus Christ" in a school play; Today, he is an ordained Minister of Anton LaVey Satan's Church; Periodically the government sends for him and his father for physical an psychological evaluation because his father in Vietnam was a sprayer of agent Orange.